West Virginia Fall Foliage
The Beauty of Fall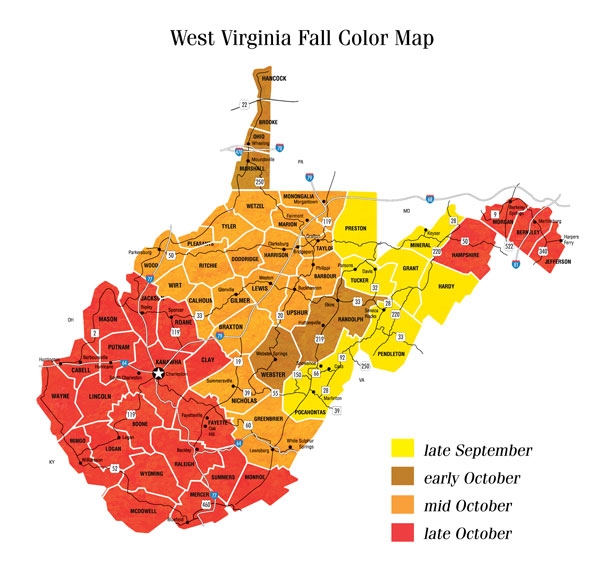 One of my favorite parts of fall is the leaves turning colors. I'm always astounded at how many variations of color there are! I always end up taking so many pictures to capture the beauty of it. Since West Virginia is the mountain state, there are plenty of trees that accompany the fall season. In this state, everyone loves to talk about peak season. This is generally the time where the trees are at their most beautiful. The most wonderful thing about this state is that we have mountains and valleys so all the trees don't change color at the same time giving us plenty of time to see all of them. This year, October is the month you want to travel around this beautiful state. If you drive along the interstate towards Beckley, Lewisburg, Morgantown or Wheeling you can see these trees in their autumn splendor in mid-October. In the valley areas like Charleston, Huntington or Point Pleasant the peak will be later in October giving you the time to travel and see all of the beauty that nature has provided.
All over the beautiful Mountain State there are many routes high and low to be explored. In early October, visit Wheeling for its fall splendor along the Ohio River. Nearby Oglebay Park offers wonderful lodging and dining. Spend the weekend driving along the coast or experience the wonders of Wheeling. Next experience the splendor of Pocahontas and Greenbrier counties. They hit their peak in mid October. You can drive among the mountains and see breathtaking views and beautiful foliage. If you really want to experience the scenic beauty of West Virginia, then stay at Watoga State Park. It offers 10,100 acres of nature and offers lodging and camping facilities. It's close to the Cranberry Glades, a natural botanical garden and bog.
Last but not least on our list, visit Charleston and the beauty along the Kanawha River. Our capital city has plenty to offer for lodging, dining and entertainment. Drive west along I-64 and see glass blown in Milton, WV and explore train history in Huntington, WV. In late October, this area will be resplendent in fall colors.
Photo Credit: WV Division of Forestry