West Virginia 4th of July Celebrations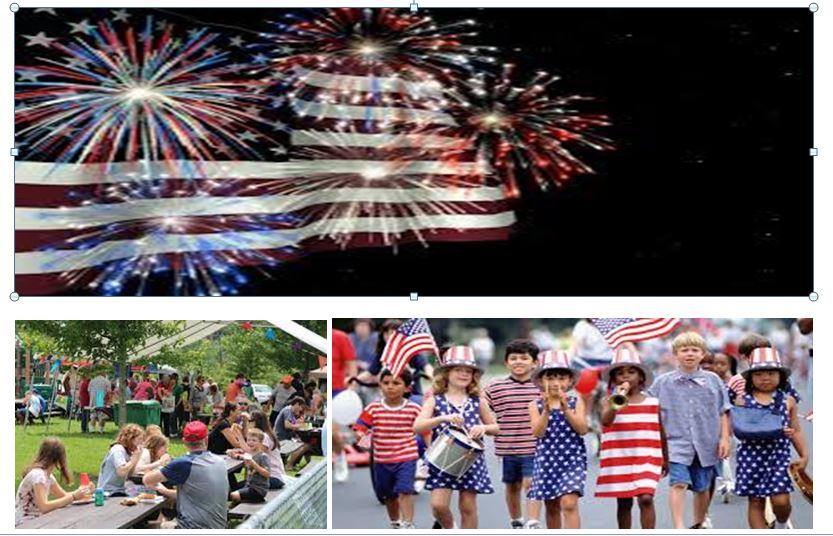 Red, white and blue are the colors of the day and represent our country's birthday at annual Fourth of July celebrations all over our nation. Come join the festivities across the Mountain State that make for the perfect Fourth of July. After these celebrations, you'll know why we're called Wild, Wonderful West Virginia!
Celebrate America! Events – Davis, Weirton, Clarksburg, and Wheeling
Celebrate America's birthday with the Wheeling Symphony at four locations across West Virginia. The Weirton Event Center in Weirton, Canaan Valley State Park in Davis, the Clarksburg Amphitheater in Clarksburg and the Wheeling Heritage Port in Wheeling are hosting free concerts of patriotic songs that will life your spirits. You'll enjoy an evening of great music and food, then finish this patriotic event with fireworks that will dazzle you.
Alderson Fourth of July Celebration, Alderson, West Virginia

Known as having one of the best celebrations in the state, the festivities go on all weekend long in Alderson, West Virginia. Named the No. 1 fireworks show by WV Living, there is a free gospel sing sponsored by the Alderson River of Life Church of God, a 5K run for snacks race, cornhole tournament, baking contest, horse show, hotdog eating contest, ice cream social, July 4th banquet, water events, kid's bike race, rodeo, car show, parade and fireworks display. There's something for everyone all week long.
Ripley Believes in America, Ripley West Virginia
Beat the summertime blues and join the celebration of our nation's birthday at the Ripley Believes in America, also known as "the USA's largest small town Independence Day celebration." Festivities begin early in the week with special concerts, historic presentations and a sock hop at the Courthouse. July 4th activities start with a Pancake Breakfast at Calvary Methodist Church at 7 a.m. Later in the day, you can participate in the Firecracker 2-mile race, watch the parade, enjoy carnival rides, try treats from local food vendors and tap your foot to America's #1 Alabama tribute band. The evenings events include more music and conclude with the grand fireworks display at 10 p.m.
Celebration of America, Morgantown, West Virginia
The beautiful Monongahela River is the backdrop for the 20th Celebration of American in Morgantown, West Virginia. Special music at the Hazel Ruby McQuain Riverfront Park Amphitheater, great food from local eateries, a parade, shopping and contests will keep you busy during the day. Bring a lawnchair or blanket and find your favorite place to sit back and enjoy the fabulous fireworks display by the river.
4th of July Celebration, Charleston, West Virginia
Looking for a great vacation idea for July 4th? There is no better place for a great family Fourth of July celebration of our country's birthday than in Charleston, West Virginia. Since Charleston is the state capital, there is plenty of live musical entertainment including Live on the Levee. From there you'll be excited to know that Charleston's hour long fireworks display has over 500 fireworks to amaze and dazzle visitors young and old. While in the capital city, you can also celebrate National Ice Cream Month by visiting Ellen's Homemade Ice Cream and check out the Capitol Market for some great local and regional beers. If you like outdoor activities bring your bike and travel the Kanawha City Bike Trail along the Kanawha River.
Fireworks, Festivals and Fun, Fayetteville, West Virginia
Be part of a small-town Independence Day celebration with fireworks, festivals and fun in Fayetteville, WV. Events begin on July 3rd with music from The Beauty Mountain Groove Project, the Hit and Run band, Krista Hughes and Ann Sumpter. Plenty of food vendors will be on hand to offer local treats. The fun continues on July 4th with a parade that starts at 11 a.m., a classic car show in the court house parking lot, music by the Gospel Harmony Boys, and other fun events like a turtle race, frog jumping, hula-hoop contest, balloon toss and watermelon seed spitting. Fireworks begin at dusk.
Harpers Ferry Women's Club Independence Day Celebration, Harpers Ferry, West Virginia

Events are free and family friendly and include activities like a public tug-of-war game, enjoying a guided tour on one of the local trails, a live music concert by Rohrersville Coronet Band and food provided by the Harpers Ferry Women's Club at Gazebo Park. Nearby Shenandoah Junction hosts the annual firework display the Saturday before the fourth, but no alcohol or pets are allowed.
Homegrown Music Festival and Independence Day Celebration, Snowshoe, West Virginia
The well-known ski resort at Snowshoe isn't just a great place to visit in the winter. Come celebrate the Homegrown Music festival and Independence Day Celebration in Snowshoe WV, by listening to a free concert by Beats on the Basin, a fantastic brass band from Nashville on July 1. There will be a firework display on July 2 around 9 p.m. that can be seen from several excellent vantage points at the popular lodge. Local art and craft vendors will be on hand for Community Appreciation Days , with free fun passes for neighboring county residents and you'll be able to sample some of the best local craft beers and food in the state.