To Hire an Agent or go FSBO
what you need to know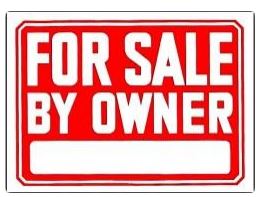 Hiring a real estate professional is not only the easiest way to sell your home, it's also the smartest. Before listing your home as an "For Sale by Owner" (For Sale by Owner) consider this; statistically' a home on the market listed FSBO takes longer to sell and usually sells for less than its real estate professional counterpart. Most people focus on maximizing profits when it's time to list their home for sale, and selling your home yourself may seem like the easiest tactic, but home buyers are usually leery of high prices, no guarantees, and first time home buyers just don't feel as comfortable negotiating on their own. A good agent is on top or pricing among other things. Here are five things to help you understand the world of the Real Estate agent
1. Pricing - The fastest and most affordable way to sell your house is to price it correctly. Priced too high, you risk your home sitting on the market for months. Price too low, and you are leaving money on the table. An experienced agent knows the local market and how to price a home based on not only the market value but what similar homes in the neighborhood brought. An agent can run the number to make sure you get the most money for your home in a decent time frame.
2. Negotiating - Selling a home is a major business transaction involving the banks, lenders, lawyers, agents, inspectors, and the list goes on. Knowing when and where to negotiate is important, a good agent can help navigate these challenging waters. The sale process has three significant negotiation intervals, the initial offer, the counteroffer, and the post offer period. You need a skilled and objectively impartial negotiator on your side during these discussions.
3. Exposure -Maximum exposure to potential buyers is crucial in home sales. Your agent will prepare all the marketing materials, create your ads for print and internet, open houses, and network with other agents who may have interested buyers. Unlike FSBO, agents have built a career on finding and knowing the best places to share the home for sale, ensuring it gets noticed and sold quicker.
4. Buyer perception - Most potential buyers are going to have a buyer's agent of their own. FSBO deals can often deter agents from showing a home. FSBO can also leave people feeling vulnerable and uneasy when having to do the calling on their own.
5. Sales process - A professional real estate agent has the experience to work through the sale process efficiently. Each step in the sales process presents challenges whether in financing problems, dealing with buyers, objections, complaints, inspections, paperwork, and securing closing times. Facilitating the contracts and escrow to a successful, smooth close can be tricky. An experienced agent will help make sure the selling process an enjoyable one.
How can we help? Contact us.