Strata Recipe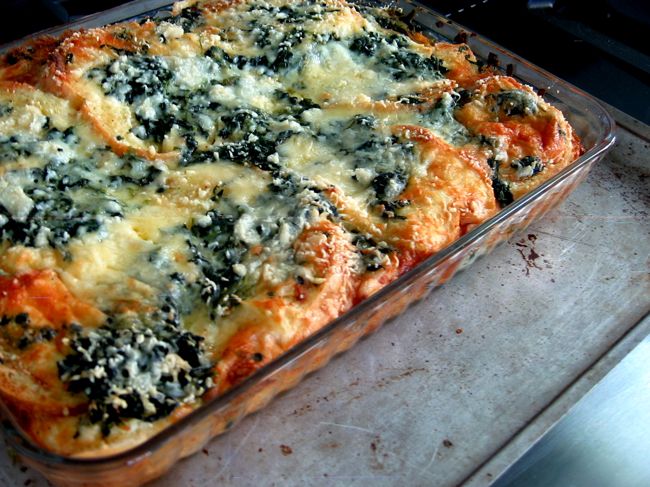 A strata or savory bread pudding is a great idea as a brunch dish or at a potluck. It's made in a casserole dish but could work in a bundt pan for a more special look. Bread pudding is a wonderful open book. You add your choice of bread, eggs, cheese, meat and veggies to the dish and bake it. French or Italian bread, baguette, brioche and croissants are great for bread pudding. You want the bread dried and crusty because then it soaks up the egg batter better. Cut the bread into 1 in cubes and leave out overnight or put in a 200 degree oven for about an hour to dry it out. This step is especially needed if baking in a bundt pan so the egg batter doesn't all seep to the bottom of the pan.
Spinach and Gruyère.
Ingredients:
10 oz frozen spinach, thawed
1 1/2c sautéed onion
1 lb ham, cubed
8c bread, 1 in cubes
2c gruyère
1c Parmesan
2 3/4c milk
9 eggs
1t salt
1/2t ground black pepper
Combine eggs, milk, salt and pepper into bowl and mix until incorporated. Add bread to another bowl. Then add cheese, veggies and ham. Then pour egg batter on top. Stick in fridge about 25-30 mins or overnight for batter to soak into bread. This allows the flavors all meld together. When ready to bake, grease pan with butter or coconut oil. Put into a 350 degree oven and bake for 40-50 mins.
Other delicious options:
1.Chopped basil, mozzarella, chopped sundried tomatoes
2.Chopped basil, 1c Parmesan, 1t diced garlic, 10 oz frozen spinach, thawed, ham
3.Cheddar, bacon, ground beef, cooked and drained
4.1/2c diced tomatoes, 1/2 c diced zucchini, 1/2c spinach, 1/2c chopped mushrooms
5.1c mushrooms, 1c diced sautéed onions, 1t dried thyme