Shepherds Pie Recipe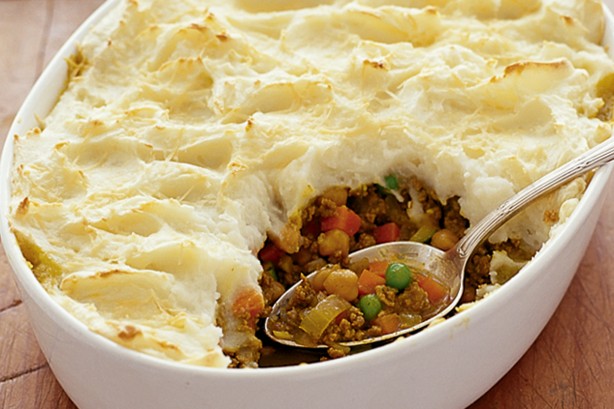 January is a time that people generally stay inside and keep out of the cold. The weather inspires the need for something warm, filling and wholesome. January is also a time that people desire to eat healthier. This recipe fulfills both those needs. It's one of my favorites, shepherd's pie. A little known fact is that if this dish is made with beef, it's called cottage pie in the UK. It's only called shepherd's pie if its made with lamb.
Shepherds pie
2 cloves garlic, finely minced
1.5 lbs ground lamb (or beef if desiring cottage pie.)
2c beef stock
4-5 sprigs fresh thyme
1 t dried basil
1/2 t dried oregano
1/8 t ground cumin
1/8t dried ginger
1lb bag frozen pearl onions
1 lb bag frozen peas
1 lb bag baby carrots
1t salt
1t pepper
1 T cornstarch
3 T olive oil
1 head cauliflower, chopped
1/4c milk
Add ground lamb to stewpot on medium heat. Add salt and pepper to taste. Use a spatula to chop the lamb into small pieces and make sure it browns evenly. When lamb is completely browned, drain it using a colander to remove excess fat. Then add the stock, garlic, herbs and vegetables. Let this come to a boil and then reduce the heat to medium low and add the cornstarch. This will thicken the sauce so its more like gravy.
While the sauce is simmering, Drizzle the olive oil over the cauliflower and bake in the oven set to 350 degrees. Bake for 15-20 mins or until soft. After removing from the oven, let cool for 5-10 minutes then add to blender or food processor. Add milk and a 2T of butter and then blend until smooth.
Put the filling into a glass baking dish and top with cauliflower mash. Broil in oven for 5-10 mins or until the mash is lightly browned on top. Remove from oven and let cool for a few minutes. Serve and enjoy!