Pumpkin Cheesecake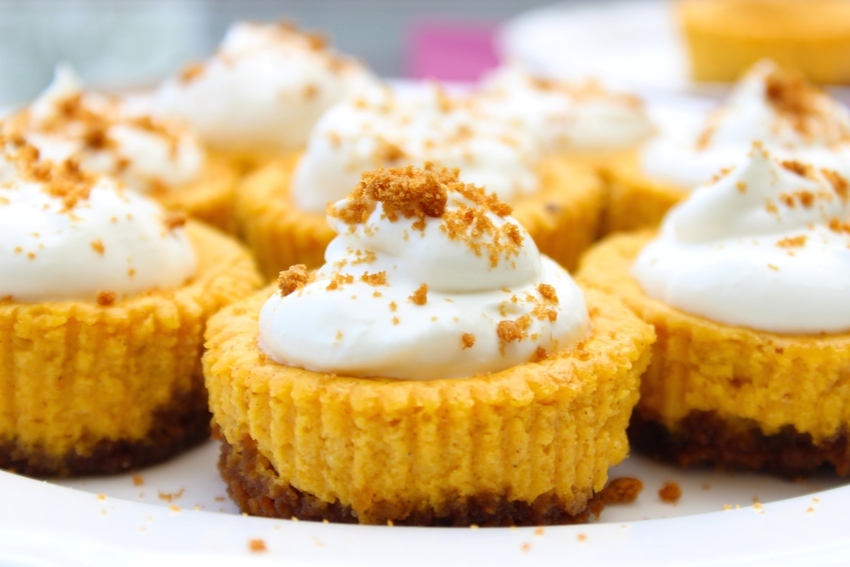 National Pumpkin Cheesecake Day is in October. What better way to celebrate this day than with making pumpkin cheesecake! Here is great recipe to make for the celebration. Making minis is great because of the built-in portion control. Sometimes all that's wanted is just a little bite instead of a whole piece.
Mini Pumpkin Cheesecakes
Ingredients:
Crust:
40-45 gingersnap cookies
4 Tablespoons butter, melted
Filling:
3 8 ounce packages cream cheese, softened
1 cup packed brown sugar
1 cup canned pumpkin (If you get pumpkin pie mix, leave out the spices and sugar.)
1/4 teaspoon salt
2 eggs
1 teaspoon vanilla extract
1 teaspoon cinnamon, ground
1 teaspoon nutmeg, ground
1/2 teaspoon allspice, ground
1/2 teaspoon cloves, ground
1/4 teaspoon ginger, ground
1 Tablespoon cornstarch
Start by preheating oven to 350 degrees F. Use stick of butter to grease mini cheesecake pan or mini cupcake pan. You can use cooking spray for this too but the butter tastes better. With the paper on the stick of butter as you're holding it, you can make certain to get all the corners and it's mess free.
Pulse the cookies in a food processor until ground fine. This should end up being about 2 cups. Add the cookies and butter to a bowl. Mix until all incorporated. The mixture should hold together when squeezed in your palm. Add the cookie mixture to the cupcake/cheesecake pans, use a espresso tamp or a juice glass filled with beans to smush the crumbs down to form the crust. If you want more of a tart shape, then press crumbs along the sides with your fingers.
For the filling, add the softened cream cheese to a stand mixer. If you don't have one, a bowl with an electric beater works fine. Beat for a minute or two to whip the cream cheese and make it easier to work with. Add the brown sugar and beat until incorporated. Add pumpkin and mix. Then add spices, starch and vanilla. Each time beat about a minute. Add eggs one at a time until you can't see yolk anymore. Be VERY careful not to overbeat once you add eggs because they'll cause the cheesecake to crack when baked. Add the filling to the cupcake/cheesecake pans using a spoon or a cookie scoop. Make certain that the filling doesn't over fill the holes. Cheesecake will puff slightly in the oven but depresses some when out of the oven. Over filling will create a muffin top on your cheesecakes. Bake 20 to 30 mins depending on your oven. Let cool for at least 30 minutes before attempting to remove from pan. When removing, if you have greased sufficiently enough, lay a cookie sheet over the cupcake/cheesecake pan, then flip them over. With luck, the mini cheesecakes will come out of their pan onto the cookie sheet. Flip the cheesecakes over and refrigerate at least an hour or until ready to serve. Serve with whipped cream. You can add some crumbled gingersnaps on top or caramel sauce.
How can we help? Contact us.