November 2017 Events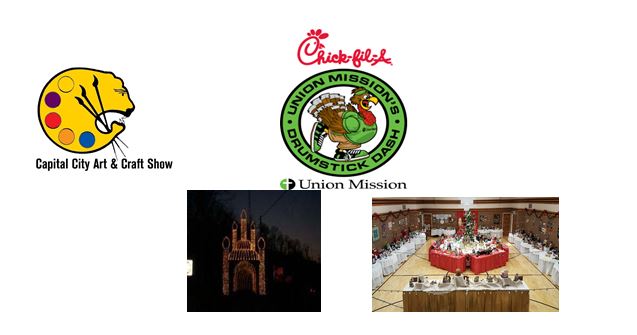 50th Annual Capital City Art & Craft Show- November 17th-19th
Come to the Charleston Civic Center to see an art show with overflowing with local artists and craftsman showing off their wares. Get your holiday shopping done early and support a good cause. The Kanawha City Lion's Club uses the proceeds of the event to donate more than $1.3 million dollars to state and local charities. There are door prizes and the 1st 250 attendees each day are given a coupon good for a discount on your first purchase. Come see the demonstrations and sample the variety of WV produced food products. There will be salsa, dips, jellies, cakes, wine and much more! There will even be regional authors doing book signings. It looks to be an event for every interest.
Thanksgiving Day-Drumstick Dash 5K
What better way to enjoy all the Thanksgiving delights than by burning off calories first. This race supports the Union Mission and services provided to those in need. The Drumstick Dash will be held on Kanawha Boulevard, Charleston, WV on November 23, 2017 starting time 9:00 AM. Bring as many cans of food items as you can! Walkers and runners welcome. For extra fun, take part in the search for turkey hats along the course. Find one, wear it across the finish line and report to the prize tent to claim your prize. It's like a scavenger hunt and race all in one! Register before race day to save $5 on the cost of the race. For more information, visit: http://www.drumstickdashwv.com/
Saint Albans Festival of Lights Nov 24th-Dec 4th
The tradition continues! The Saint Albans Festival of Lights is an annual event featuring thousands of lights. Enjoy everything from West Virginia-themed displays to jumping dolphins and snapping gators! The drive through City Park has never been so magical. Monetary or food donations are accepted. Pictures with Santa available $5. Hot chocolate, cookies, coffee available with donation.
Nativities from Around the World Dec 1st-9th Come see this international event with nativity scenes from over 100 different nations. This self-guided free event takes place at The Church of Latter Day Saints-839 Chestnut St., So. Charleston, WV. It is a nondenominational gift to the community to celebrate the Christmas season. There will be live music on Sunday and a Walk Through Bethlehem offered as well.