Labor Day
Where It All Began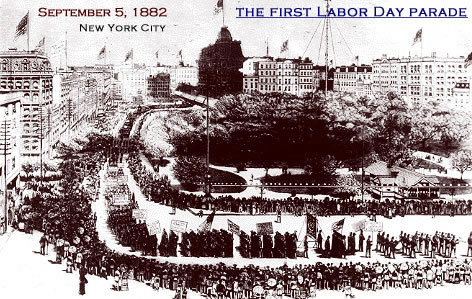 Many people in this country love to celebrate Labor Day. It's the unofficial end of summer. There are cookouts, parades and so many sales at the store but I wonder how many of them know the history of Labor Day. Why do we celebrate this day? Its not just so we could have another 3-day weekend.
Labor Day is a creation of the labor movement and is to celebrate the workingman. The labor movement started as a revolt against the horrible 12-hour shifts 7 days a week for meager pay. Labor Day was a means to promote better working conditions and to prevent more strikes and unrest. It's meant to recognize the efforts workers have made to make this country strong and proud. The 1st Labor Day was celebrated in 1882 in New York City but the first Monday in September wasn't selected as the official date until 2 years later. The movement spread from state to state but wasn't an official federal holiday until 1894. The first celebration was a parade of the many labor unions and their workers. A festival followed this for the workers and their families. As the movement spread, speeches would be given from prominent men and women. It is the everyman who we celebrate on this day. The tradition of parades and festivals are continued to this day. The largest of course where the holiday began in New York City.
The Charleston Distance Run is held Labor Day Weekend. It is America's only 15-mile race. There is also a 5K if you want to join in for a shorter distance. My favorite event would be the 15-mile relay race. The course winds through downtown Charleston and along the riverfront. There is a pasta party to kick things off on Friday with a Kids Fun Run that evening as well. Saturday morning is when the other races start at the Capitol Building. It promises to be lots of fun.
WV Power has a game on Friday evening, 9/2/16 against the Greenville Drive. These two teams are both ranked 3rd in their leagues so it promises to be a good matchup. Don't forget the fireworks after the game. It's my favorite part!