Holiday Cookie Baking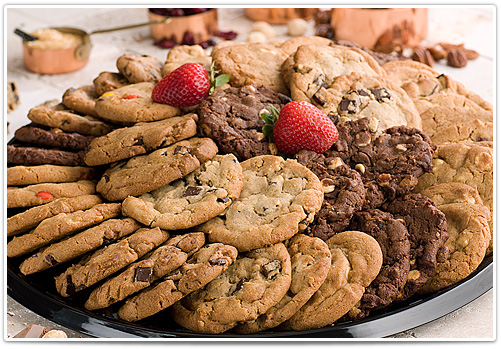 December is the best month for cookie baking. As a matter of fact, Bake Cookies Day is December 18th.. My favorite way to celebrate is with a cookie exchange. Several friends and/or coworkers get together and make a batch of cookies. Then you gather and exchange cookies AND recipes. This way you get multiple kinds of cookies without having to spend days baking. We all know that calories consumed with other people don't count!
Here's a few ideas for this years' exchange to spark your creativity.
Cake Mix Cookies are easy and can be made a myriad of ways. Take any cake mix flavor and add 2 eggs and a 1/2 cup of oil instead of what it says on the box. You can add nuts, chocolate chips, peanut butter, sprinkles or coconut. The possibilities are endless. Avoid adding FRESH fruit, the cookie batter will be too wet and not bake correctly.
Peppermint Mocha- Use the above instructions with a chocolate cake mix. Add a teaspoon of peppermint extract, 2 teaspoons of espresso powder(instant coffee works too), and some crushed candy canes.
Red Velvet with Cream Cheese Icing- Use Red Velvet cake mix as above. For icing, add an 8 oz package of cream cheese to 1/4 cup butter and 1 teaspoon vanilla extract and mix together. Add 4 cups of powdered sugar one at a time until fully incorporated. Spread between cooled cookies for a delicious cookie sandwich or on top with some festive sprinkles on top.
German Chocolate Cake- Use German chocolate cake mix as above(regular chocolate works too in a pinch)with coconut and chopped pecans mixed in for this recipe. Make a caramel icing to frost the cookies. In a 2-quart saucepan, cook 1 cup sugar, 1 cup evaporated milk, 1/2 cup butter and 3 eggs over medium heat, stirring constantly, until mixture begins to bubble. Remove saucepan from heat. Add 1 teaspoon vanilla. Cool completely, about 30 minutes.
For a winter seasonal flavor, add dried cranberries and orange zest to a yellow cake. Or add only 1 8 oz can of pumpkin pie filling to a white cake to make a pumpkin cake. If you have a can of just pureed pumpkin, then add a teaspoon of cinnamon and clove to it.