Getting ready to sell
Exciting or scary; it all depends on how well prepared you are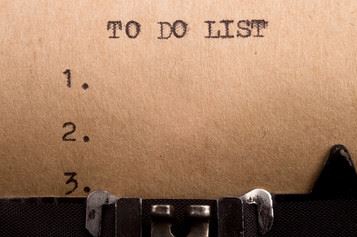 Ready to sell; you've concurred the scary and exciting decision to sell your home but, before you're ready to list it, you need to be proactive about facing its faults. If you're ready to sell, you've probably chatted with neighbors and compared houses in the neighborhood online. Before you classify your home on the high end of the price spectrum, you may need to admit, it has its faults. Take a hard look at the home and see the flaws that other buyer may see and fix it so you will be able to get top dollar when the papers are signed.
Most people genuinely believe their home is worth more than its actual value, we all want the most money and to pay the very least for a home. Everyone who buys or sells a home always wants to walk away with the story about how they got the "deal of a lifetime". The truth is, there is a happy medium where everybody wins.
Overpricing a home is the number one way sellers damage their ability to get the most money for their property.
Here is a check list to make sure your home is top notch so it can be priced at its very best.
1. The kitchen; if its more than a decade in age, it needs an upgrade. The kitchen is the most used and most visually memorable room in the house, if it isn't up-to-date and perfect, change something. It may not need an overhaul but, changing things like the sink, oven, or back splash adds eye popping amenities that are memorable. This also allows the realtor to place content on websites stating there are new upgrades. The cost can be relatively inexpensive, costing less than a grand and can bring thousands more in offers from potential buyers. Always remember keep the finishes in line with other homes in the neighborhood.
2. Keep it Clean; if your home is cluttered or needs to be freshened up, get it done. Everyone wants a home that has been well maintained and move in ready. Deep clean the home, if the inside of cabinets are dirty, clean and paint them. Nothing is easier and cheaper than painting, freshly painted walls and inside of cabinets show buyers they don't have to do the work when they buy. No one wants to buy and then have to do more work. Pick up around the house and declutter shelves, TV stands, and window sills. The cleaner these spaces are, the easier it is for potential home buyers to envision what they would do in the home. Professionally clean the floors! A blank slate is more pleasing to the eye and puts recent upgrades front and center. De-personalize your space by removing photographs and mementos, concert posters, religious items, sports memorabilia. Think model home, everything needs to be neutral as many kinds of people will be touring the home.
3. Problem areas need to be fixed; Homes get old and need to be fixed or replace. Unless someone is buying a "flip house or fixer upper" they don't want to invest hours of labor. Touch up trim, fix baseboards, replace loose knobs, and grease doors. Ensure locks are working, replace or clean up outdoor accents and maybe replace the mailbox and house numbers. It might cost a couple hundred bucks but, pay for a home inspection before you list and address problems that were found in advance. Most buyers will be getting their own inspections, every inspections company will find something don't let the buyers find the big problems out before you do, get it done first. If you have it fixed first, there will be no hesitation or painful re-negotiation later.
4. Don't chase the market; over pricing a home can be a serious problem. If a home is overpriced, you could scare of buyers. The first couple of months is crucial in sales, if the home is overpriced people will not make offers. This leads to sellers having to drop the price, some buyers can respond with offers even lower than the new listed price. This can create a vicious cycle that will keep your home on the market for many days. When a home is on the market for too long buyers begin to ask "why has the home been on the market so long, what's wrong with it? Why do they keep dropping the price?" Be sure to talk with the listing agent about pricing it right, not just pricing the home at top notch prices. If priced right, a home can get multiple offers from buyers and potential create a bidding war. This could give you the strongest offer for the home without having to negotiate with only one buyer.

Selling your home quickly and at a great price is satisfying and will make the process much smoother. Just follow these few tips and make sure to ask your realtor for their tips and tricks to get the most out of your home.
How can we help? Contact us.