February Holidays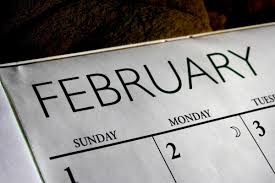 Most when thinking of February, name only Valentine's Day. Fortunately for those of us who aren't so romantically minded, there are many holidays in February.
February 9 is National Pizza Day. Who doesn't love pizza? With over 3 billion pizzas sold in the US a year, there can't be many. This food definitely is celebration food because its brought to most of them. This is one food that one can have any time of the day. I love cold pizza the day after.
February 13 is Get a Different Name Day. This day celebrates those people who wish their parents had chosen something else for them on their birthday. Today they can change it to something they'd like better. Perhaps your name is too plain for you and instead of Mary, you'd prefer to be Cynthia. Perhaps no one spells your name right and for once you want a name a barista can spell. The only caveat for this day is to remind family and friends what to call you for that day.
February 17 is Random Act of Kindness Day. This is a wonderful idea. Performing a kindness for someone just makes them smile and you smile too because you feel good. What goes around, comes around and what better thing to spread than kindness and happiness.
Polar Bear Day is February 27th. This is a day to celebrate this interesting creature. Did you know that the polar bear's skin is black and their fur is clear? It looks white because of the reflection from the ice. Take this day to visit any local polar bears at a zoo or watch some nature documentaries on TV.