Blackberry Season
Blackberry Season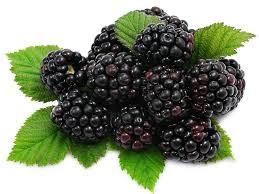 Summer is my favorite time of year. I just love the bounty of produce that comes with this season. July is the beginning of blackberry season in WV. What better way to celebrate this berry then include them in several great seasonal recipes.
You could make skewers with blackberries, mozzarella pearls and basil leaves with balsamic vinaigrette drizzled over it.
Another wonderful idea is to make a pizza with blackberries and ricotta. It's easy to make a thin crust pizza by substituting a flour tortilla for the crust. Spread ricotta cheese on the tortilla and sprinkle slightly crushed blackberries on it. Turn the oven on its broiler setting. When the oven is hot enough, bake for 10-15 minutes until the tortilla crust is browned. Once its baked, remove from the oven. You can add chopped basil and/or prosciutto on top afterwards. These burn too easily if put in the oven.
You could make a salad with diced watermelon, blackberries, feta, mint and diced red onions.
Another idea is to add crushed blackberries and mint to water. This is a great refreshing drink in the heat of summer.
If you'd prefer a more savory application, then glaze some pork chops with a blackberry basil sauce. Add equal parts water and sugar to a pan. Cook until all the sugar is dissolved in the water, making a simple syrup. Take the syrup off the heat and add chopped basil. Let the basil steep in the syrup for 30 minutes to an hour. Sift out the basil leaves from the syrup. Add crushed blackberries and the basil syrup to a pan over med heat. Cook together until the blackberries are a jam consistency. Cool and serve over pork chops.
Whatever way you serve them, make certain to get plenty of blackberries before they're gone for the year.