August 2018 Events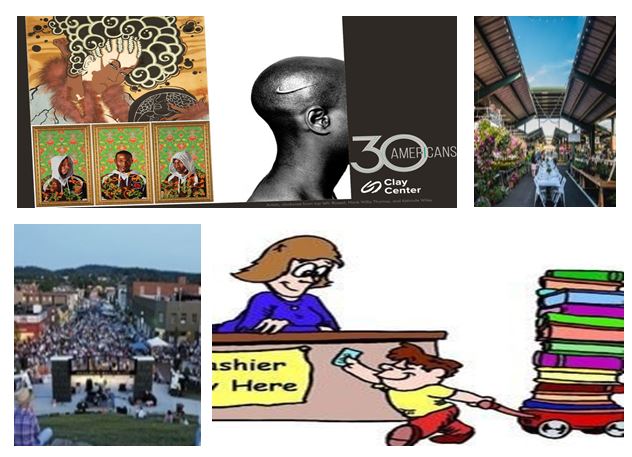 30 Americans
30 Americans showcases works by many of the most important African American artists of the last three decades. This provocative exhibition focuses on issues of racial and historical identity in contemporary culture while exploring the powerful influence of artistic legacy and community across generations. All of the artworks in the exhibition are from the Rubell's permanent collection.
General public will be able to view this exciting exhibition for the first time on Friday, May 11th from 5:00 – 7:00 PM. Music for this free event will be provided by local favorite, GrooveHeavy!
Monday, August 6
Tuesday, August 7
Wednesday, August 8
Thursday, August 9
Friday, August 10
Saturday, August 11
Sunday, August 12
Monday, August 13
Tuesday, August 14
Wednesday, August 15
Summerfest, South Charleston, WV
Known for the music and dancing, this year's Summerfest features several nights of bands, free cotton candy, snow cones, face painting and jumping features to keep the young ones busy. There are dance competitions for kids and adults and a car show. The festival ends with spectacular fireworks.
Wednesday 8/15 – Saturday 8/18
YMCA River Swim
Join us for a 1.6 mile open water swim from the WV State Capitol stairs to Haddad Riverfront Park in conjunction with Sports Fest. .
Starting point Capital steps
Ending point Haddad River Front Park
Race report time 6:45 AM
Race start 7:15AM
Must be 18 to participate.
We are doing something a little different with shuttle this year, we will be providing it BEFORE the race so people can swim back to their cars. We will have bag service.
Saturday, August 18th at 7:15 am - 10:15 am
Market Table - A Farm to Fork Event
We invite you to gather at Capitol Market's multi-course farm to fork event! You will dine at The Market Table on delightful fare created and prepared by Chef Paul Smith with handpicked produce and other ingredients throughout the market.

**All Beverages at this event will be provided by Capitol Market and are included in your ticket price. BYOB is strictly prohibited by the WV Alcohol Beverage Commission Administration**
Menu
6:30pm to 7pm
1st course Passed Hors d'oeuvres and Champagne
7pm to 9pm
2 & 3 course – Low Country Boil
4th course – Beignets with praline sauce
An array of wines will be chosen by The Wine Shop to serve during the event.
**Due to the nature of these farm to fork dinners, substitutions are not available**
Saturday August 18, 6:30 PM - 9:00 PM
Used Book Sale
The St. Albans Advisory Board is sponsoring a Used Book Sale on Friday, August 24 from 3:00 p.m. - 5:45 p.m. and Saturday, August 25 from 10:00 a.m. - 1:45 p.m. in the St. Albans Branch Library Community Room. Prices range from a quarter to a dollar. This sale presents a great opportunity to build your and your child's personal library. All proceeds are used to support activities at the library. Contact the St. Albans Library at (304) 722-4244 for additional information. All Ages.
Friday, August 24 at 3:15 pm - 5:45 pm
Saturday, August 25 at 10:00 am to 1:4 pm
St. Albans Branch Library 602 4th St. St. Albans, WV 25177
State Fair of West Virginia
You'll experience "Unforgettable Fun" Aug 9-18 at the State Fair of West Virginia in Fairlea. Enjoy livestock, grandstand entertainment, delicious food and all the fun of fair rides and attractions.
Thursday, August 9 at 11:00am to 11:00pm
Friday, August 10 at 9:00am to 11:00pm
Saturday, August 11 at 9:00am to 11:00pm
Sunday, August 12 at 9:00am to 11:00pm